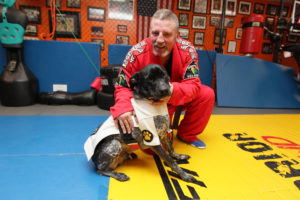 John Shaddock wanted to build a place that he would like to workout in himself. Having worked in the fitness business for over 25 years, he found weight lifting and aerobics classes to be boring. He had enjoyed the training involved in martial arts, and wanted to find a way to teach both fitness and respect. He picked the Western or European arts of Boxing, Wrestling, Catch-wrestling and Kickboxing to teach.
John has been involved in combat sports since 1971: at age 3, he began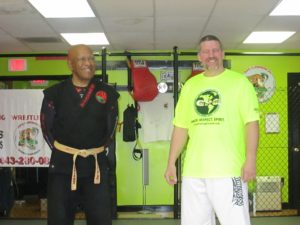 wrestling competitions; as a freshman in high school, he took third in the New York Private School Championships; at age 15, he traded wrestling to pursue a career in boxing. John won the Diamond Belt Boxing Championships and was a two-time Vermont State Golden Gloves finalist.
Throughout his life he has trained in multiple martial arts including Aikido, Gaijin Ryu jiujitsu, Brazilan jiujitsu, Shorin Ryu karate, Jeet Kune Do and is now training under ISWA in catch wrestling. John has met and trained with UFC Ulumni Royce Gracie, Dan Severn, Ron Van Clief and Kamal Shalorus.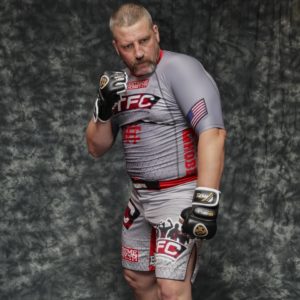 Most recently, at age 46, John had gone over to Riga, Latvia to compete in the TFC's 5-on-5 championships. (That's 10 people in the ring at once!) John was captain of the first USA team to compete in the tournament in December of 2013. In July of 2014 he lead the UK team as a coach. John's knowledge in multiple disciplines allows him to coach you to success in any situation.
Coach is a brown belt in Gaijin Ryu jiujitsu from Uber Master Lee Epperson since 2019. And on Saturday November 19th Coach John Shaddock received his Brazilian Jiujitsu Brown belt from Professor Renato Tavares and Professor Noel Smith.  He is a student under Noel Smith who is a student of Renato Tavares.
Whether you want to compete in the cage or just look like you can, John is the instructor for you.
Contact us today for a free trial class.
John and Shaddock MMA are fully licensed.